2019 Mr. Universe winner & biomechanics expert reveals his scientific method for creating 
optimally efficient
 workout programs & the 20 best exercises for optimal muscle building: 
"BRIG20"


-Understand the physics factors involved in resistance exercise to maximize muscular development


-Ensure that each exercise you select optimizes efficiency, productivity and safety


-Get a competitive advantage over other trainers by applying these biomechanical principles and the BRIG20 exercises with your clients or in your own workouts 
ROBERT PUENTES, USA
BRIG-U & SMARTTRAINING365 BIOMECHANICS CERTIFIED

Here is one of our certified members talking about why he joined this program and how it impacted his training results.

THIS IS WHAT EVERYONE NEEDS TO KNOW ABOUT RESISTANCE EXERCISE, IF THEY ARE REALLY SERIOUS ABOUT BEING AS EFFECTIVE AS POSSIBLE.
For a long time, when faced with muscular development plateaus, many people mistakenly increase their training volume by performing standard resistance exercises and more sets of each exercise.
But here's the truth about that… 
It's not that their training volume was not enough..
The problem is that most of the exercises they selected were not "efficient"—from a physics perspective.
They are unable to identify whether an exercise is :
Energy efficient

 (the amount of effort required versus the degree of muscle loading)

Anatomically correct

 (proper and full range of motion, proper alignment, natural joint function, etc.)

Or involves any 

neurological interference
If you want to get the best results :
You need to understand the physics of resistance exercise 

which allow you to only do the best exercises and do them correctly.

You need to know 

which exercises allow optimal muscular development.

You need to know how to explain 

to your clients (if you are a trainer) why certain exercises are better than other exercises and

 

why an exercise is more beneficial performed one way instead of another way.
---
This should be important to you, even if you only want optimal results for yourself.
But if you are in the business of "teaching" resistance exercise, it is IRRESPONSIBLE for you to not understand biomechanics, as it relates to resistance exercise!

THIS IS WHY WE CREATED
"
The Physics of Fitness – Online Program
".

This program will teach you the principles that allow you to optimize the results that you or your clients achieve and minimize injury risk using cutting edge biomechanics knowledge of resistance exercise.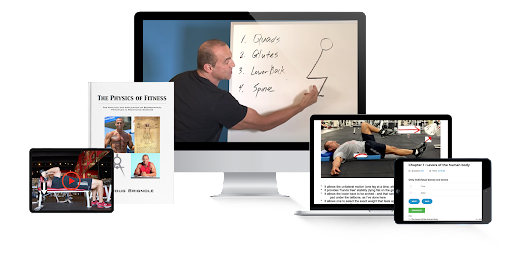 THE PHYSICS OF FITNESS - ONLINE PROGRAM
This course will teach you how to optimize your training program and how to provide the safest and most productive ways to perform resistance exercise for you or your clients, so you can:
Ensure that each exercise you select optimizes efficiency, productivity and safety

Master the physics principles that are essential for optimal performance of all resistance exercises

Understand the "rules" of ideal anatomical movement for each target muscle so you can pick the right exercise based on the equipment you have access to

Learn how to optimize your training program, so you and your clients get the most benefit without wasting time 

Learn about the 16 biomechanical principles involved in resistance exercise and how to apply them in real world applications
RENZO ALGIERI, UK
BRIG-U & SMARTTRAINING365 BIOMECHANICS CERTIFIED

Here is bodybuilding champion and elite personal trainer Renzo Algieri talking about why he joined this program and how it impacted his own training results and the results of his clients.
WHAT'S WAITING FOR YOU INSIDE THE ONLINE PROGRAM
Access the study guide anytime, anywhere and any way you like, with multiple training formats.
"The Physics Of Fitness"
 includes the online course, quizzes, the PDF and more..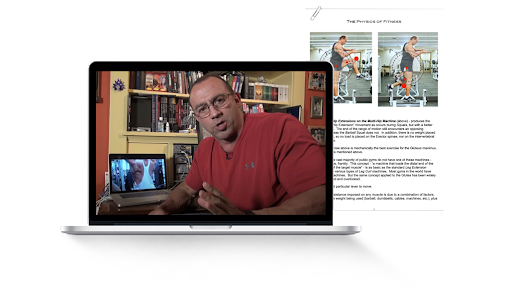 MORE THAN 10 EASY-TO-FOLLOW VIDEO MODULES EXPLAINED BY DOUG BRIGNOLE
10 modules of in-depth instructional videos with Doug Brignole helping you learn the analysis and application of the biomechanical principles of resistance exercise.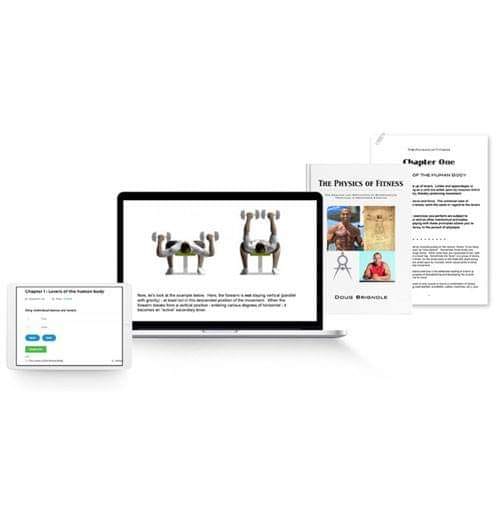 25 IN-DEPTH CHAPTER OF THE PHYSICS OF FITNESS COURSE MANUAL (PDF)


25 chapters that explain the undeniable physics factors involved in resistance exercise, as well as ideal musculoskeletal function. (This leads to ideal exercise selection, ideal exercise form, and optimal results)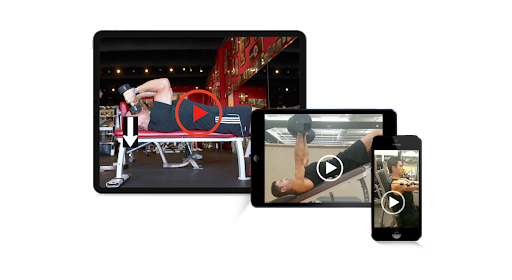 THE 20 BEST MOVEMENTS FOR OPTIMAL MUSCLE LOADING & PHYSIQUE DEVELOPMENT:​ "BRIG20"
A complete demonstration of the 20 best resistance exercises "THE BRIG20" for optimal muscle loading and physique development.


+ EXCLUSIVE BONUSES !
START THE PROGRAM TODAY​


YOU'LL ALSO RECEIVE INSTANT LIFE-TIME ACCESS TO THESE 3 AWESOME BONUSES


JOIN HUNDREDS OF ACTIVE MEMBERS IN OUR FACEBOOK GROUP
Be a member of an outstanding community of Personal Trainers, Coaches, Athletes, Gym Goers, Teachers, Therapists, Chiropractors and Professors. Get inspired, ask questions, generate discussions, make friends and have fun.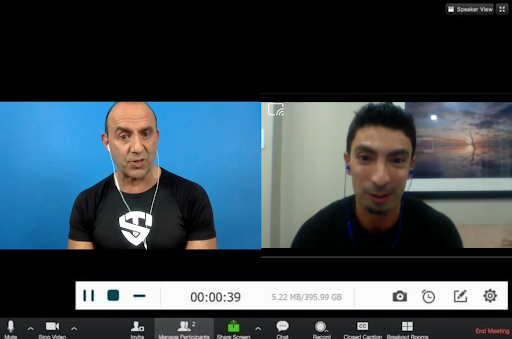 GET PRIVATE ACCESS TO THE NEXT ZOOM DISCUSSIONS WITH DOUG BRIGNOLE AND THE TEAM
Receive special invitations to the next zoom conversations with Doug & Moe & all the community.



JOIN OUR AFFILIATE PROGRAM
Recommend SmartTraining365 courses & programs and earn monthly commissions.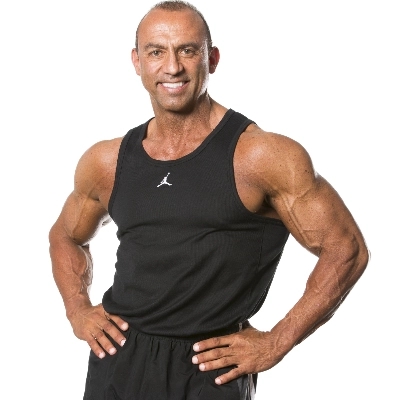 40 + years of Biomechanics study and 4 decades as a world-class athlete.

Doug Brignole is the author of "The Physics of Resistance Exercise", a book about the biomechanics of resistance exercise, which is endorsed by ten Ph.D. professors (i.e., exercise science, physics, neurobiology, biomedical engineering, paleoanthropology, sociology and psychology), plus three orthopedic surgeons.
He is a former Mr. America and Mr. Universe bodybuilding champion, with over 40+ years of experience in the field and the co-author of "Million Dollar Muscle" (a university sociology book).

Over 20 years of experience in the fitness and sports coaching industries

Moe met Doug Brignole in 2015 and was introduced to Doug's book, "The Physics of Fitness". Like all who read Doug's book, including Doug's endorsers, Moe was amazed by the depth of the information and the clarity with which it is explained. Although Moe had worked diligently with all of his previous clients, he could see that Doug's method would drastically improve his proficiency as a Personal Trainer. More importantly, Moe could see how all trainers would greatly benefit from having this information. So he urged Doug to share this information with the world. Moe Larbi and Doug Brignole are partners in this mission—to ensure that trainers are as qualified as possible to promote optimally effective and safe resistance exercise, with this Trainer Certification program.

DOES THE PHYSICS OF FITNESS PROGRAM WORK?
There's only one way to find out, by seeing whether our members are actually
satisfied with our content. Here is what our members are saying: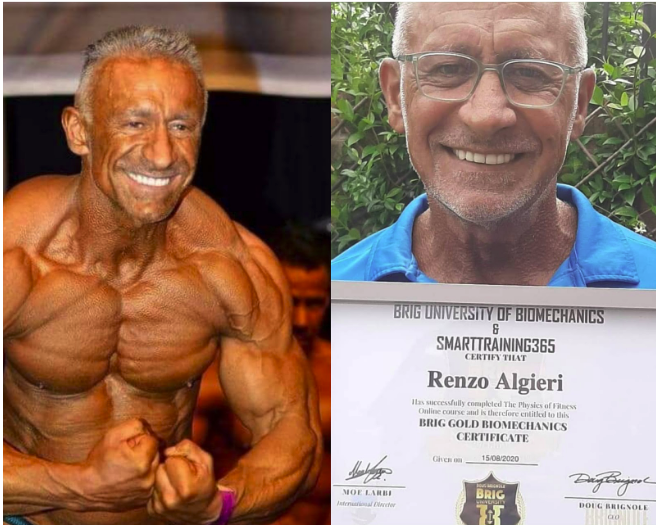 Putting emotions aside and looking at building muscle logically Biomechanics made so much sense, Doug's course teaches one to build muscle effectively, efficiently and safely, my clients are loving it and I'm progressing again, even at 60! A massive thanks to Mouhainem Moe El Arbi for his valued support throughout my learning, I can tell you I was a right pain in the ass! Thank you Doug Brignole for opening my eyes to a new fresh safe and effective science backed method.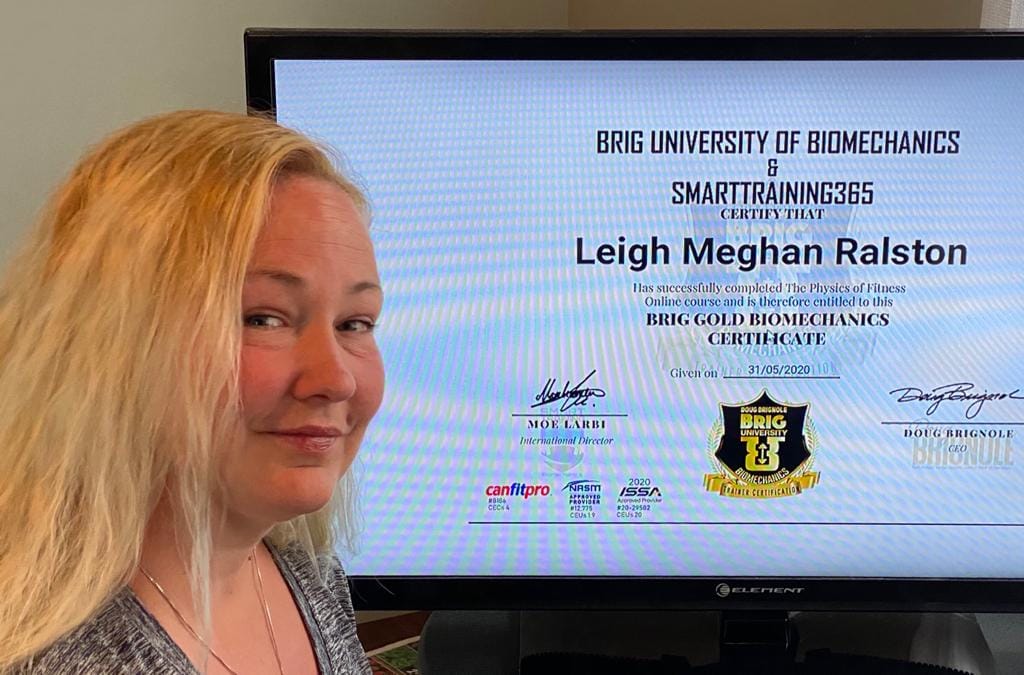 Leigh Meghan Ralston, Canada
now feel I have a very good understanding of biomechanics and the physics of fitness and can apply my knowledge to my exercise routines. The videos and lectures highlighted the main concepts of the book and I was able to pass the exam using the platform of the online course alone.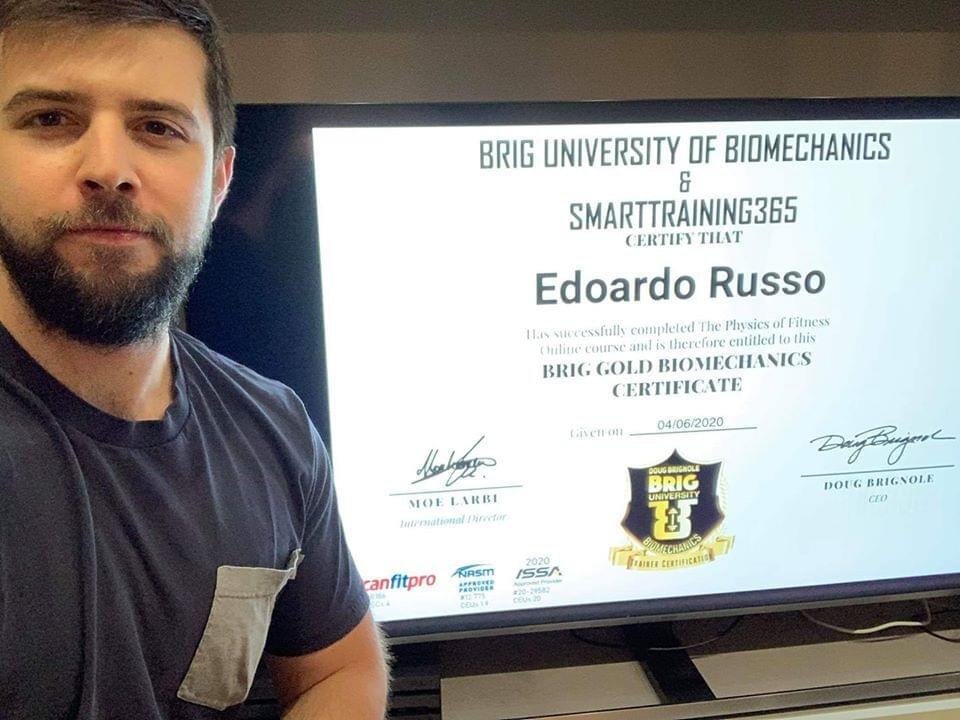 THANKS DOUG BRIGNOLE & MOE LARBI FOR THE BEAUTIFUL PROJECT YOU HAVE CREATED. This course is an added value to the book, it has managed to fill some doubts that i had, hoping that you will continue to publish material of this level, thank you again.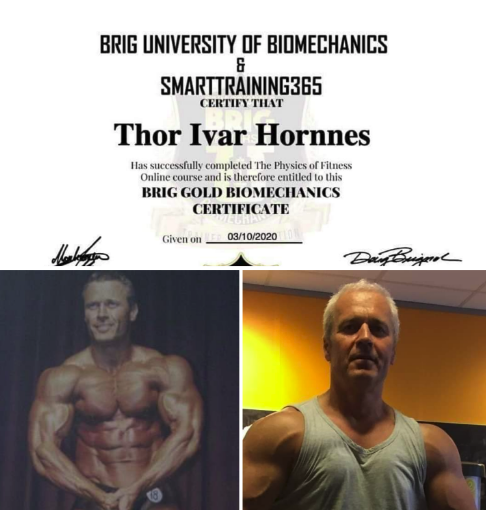 Thor Ivar Hornnes, Norway
This is the only way to train if you want the best results. I just started the course. I've read most of the book and have listened to almost all conversations on Rics corner with Doug Brignole. I have used the "Doug Brignole method" for app. 6 months and the gains are just incredible compared to the conventional methods I used before.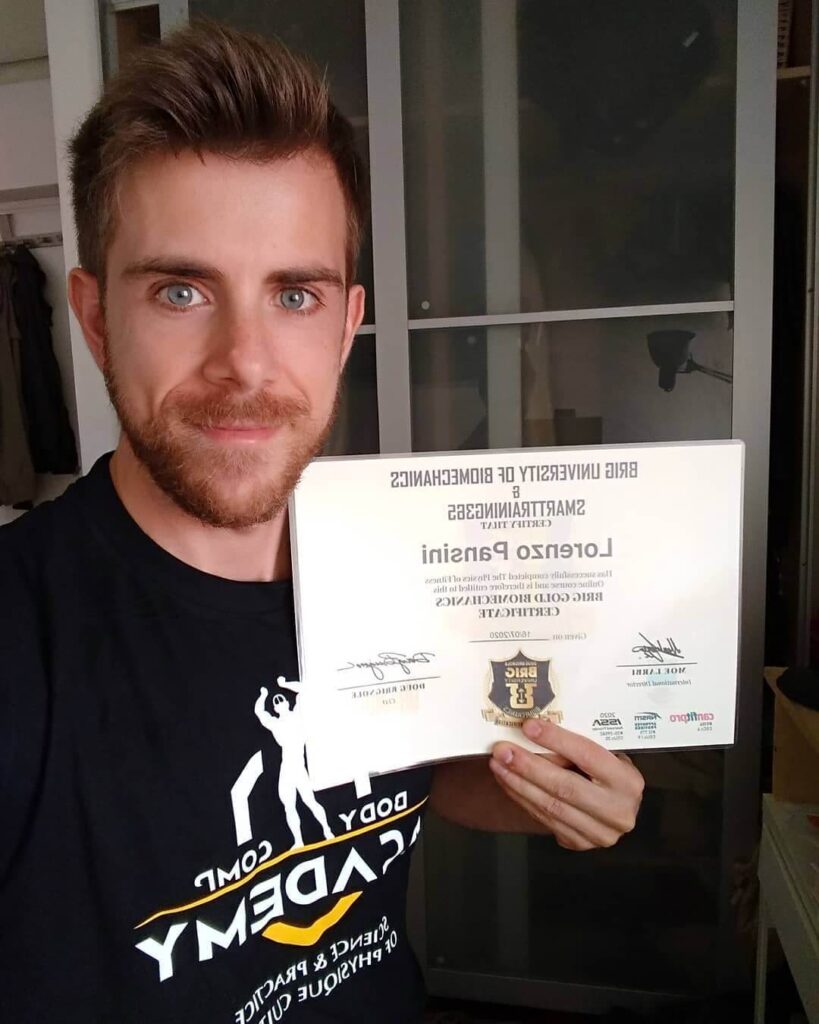 Doug has a theoretical approach at the right point, but there is a lot of logic behind his ideas, challenging the classic dogmatic and "moralistic" die hard notions also supported by many academics that I never liked either.
IT'S NOT ABOUT HOW HARD YOU WORK, IT'S ABOUT HOW SMART YOU WORK HARD!
Yes, working hard is essential. But working hard while not being smart, results in wasted effort and injury risk. It's not one OR the other.
"SMART" should be INCLUDED in the equation.

In less than 30 days, this online program will dramatically influence your exercise selection and the way you structure your workout program. 


What Is This Biomechanics Certification Course?
This course teaches the biomechanics of resistance exercise, which allows you to optimize your workout efforts, and the workout efforts of your clients.
How does it work ?
This course can be completed in 20 to 40 hours, depending on your time availability and level of commitment to learning the material.
Who Is This Course Good For?
This course is for anyone who is interested in getting the most benefit from resistance training. Trainers, chiropractors, coaches, athletes, bodybuilders, competitive athletes from all sports, fitness scholars, men, women, seniors and youth, can all benefit from using this biomechanics knowledge in their resistance exercise.
Is this course for professional trainers only ?
This course is for anyone who uses resistance exercise, including trainers. Anyone who uses resistance (i.e., weights, cables, elastic bands, bodyweight, etc.) in their exercise program, will benefit from this knowledge.
Our bodies are all the same design, from a musculoskeletal standpoint. We all have the same skeletal structure, the same muscular attachments and the same muscular function. Therefore, the same rules about which resistance exercises are more efficient and more safe, apply to everyone.
Should I learn biomechanics if I'm not a trainer ?
If you want to get the most benefit, with the least wasted effort and the least risk of injury, from performing resistance exercise, you SHOULD avoid unproductive and inefficient exercises. Therefore, you should either have the guidance of someone who KNOWS biomechanics, or you should learn it yourself.
Do not be fooled by "trainers" who appear to have a well developed muscular physique. Do not assume they understand biomechanics. The question is not, "How do I develop a muscular physique?". The question is, "How do I develop a muscular physique without wasting time and effort, and risking injury?". You can drive on a bumpy and muddy road, and arrive at your destination, or you can drive on a smooth, clear road and arrive there also. The difference is how much effort and how much "wear and tear" (injury) it will take to arrive.
Doug provides simplified explanations to complex human mechanics, which allows non-academics to understand biomechanical principles and how to apply them in your workouts. The Brignole method is a shortcut to success—the best results, as quickly and easily as possible, without injury.
What if I don't know anything about biomechanics and don't understand the course ?
There are numerous ways to learn the lessons presented in this Online Course. The concepts are presented by way of text (the PDF course manual), by way of illustrations and photos, and by way of videos (The BRIG-20), the webinar.. The Facebook Q&A, etc. You can read the information and you can see it in the videos.
Are the quizzes difficult ?
You will be provided with lots of help in learning the material, so it is not likely that you will fail, or that you will find it "difficult". 
In the Webinar, Doug Brignole reviews the entire "The Physics of Fitness" manual. The BRIG-20 Videos are an additional option which gives you clear demonstrations. These videos enhance your understanding of how the principles—explained in the manual and in the webinar—are applied.
Start Your Journey and Get the Entire Course

(INCLUDING THE BONUSES & OUR BIOMECHANICS CERTIFICATE)
Take your resistance training knowledge to a whole new level! Learn how to create optimally efficient workout programs, using proven physics and biomechanical principles.